We design and install new and replacement HVAC Systems.
BOYER HEATING AND COOLING is proud to offer the Lennox brand of equipment. Lennox Industries has been an innovative leader in providing quality heating and air conditioning products for over a century. Lennox has rated BOYER METAL as a Premier Dealer, which is Lennox's highest dealer rating, assuring you of top quality installations and the best value in home comfort systems.
BOYER HEATING AND COOLING provides solutions to maximize energy efficiency, safety and comfort for existing homes.
Forced air heating and cooling
Ventilation and energy recovery
Air cleaning and humidity control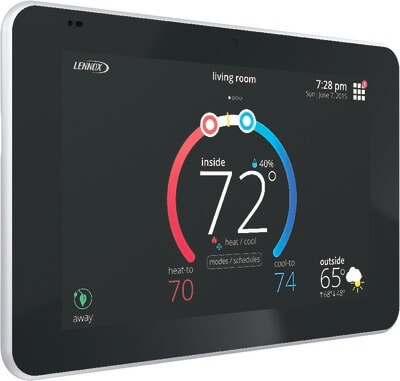 How Boyer Heating and Cooling can help you!
Forced Air Heating and Cooling
Boyer Heating and Cooling features the sales, installation, and service of the Lennox lineup of heating and cooling products for your existing home, remodeling project, or new home construction.
iComfort Wi-Fi Thermostat
The iComfort Wi-Fi® thermostat lets you set your home's temperature and save energy from anywhere in the world, using a smartphone, tablet or laptop.
Mini Splits
When traditional ducts don't make sense, Lennox ductless systems do. Lennox ductless MPA heats pumps are ideal for spaces like add-on rooms where installing or extending ductwork just isn't practical.
Energy Star
Energy Star is a U.S. government sponsored program that helps homeowners save energy and protect the environment by giving you the information you need to make choices about efficiency.
Indoor Air Quality
These products control and enhance indoor air quality for an improved, cleaner and more comfortable home environment.